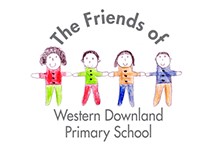 THE FRIENDS OF WESTERN DOWNLAND
Who are the Friends?
We are a friendly group dedicated to raising funds for specific school activities, projects, or items not affordable from the school budget.  Any parent/ guardian of a child attending Western Downland School is automatically a member of the Friends. Teachers, relatives or friends of the school can also be members.
The Friends has charitable status and has funded many projects over the years through a combination of donations and various events. This is thanks to the hard work of our fund-raising event organisers and to the continued generosity of our parents and supporters, to whom we are extremely grateful.
How can you help?
Funds are raised mainly through events, raffles and grants.  There is also an option to set up a standing order for those who wish to donate directly. We are registered with Easy Fundraising (www.easyfundraising.org.uk) so please consider supporting us when making online purchases.
Please join our Facebook page (Friends of Western Downland Primary School) for updates on meetings and events.  We usually meet twice a term and love to meet new people and hear fresh ideas.  Meetings mostly take place in the local pub and anyone is welcome.
Our popular events include school discos and movie nights for the children, quiz and curry night, sponsored walk, Christmas fair, cake sales and raffles.
Whether you would like to take on a role on the committee, help at events, bake a cake or just have new ideas, any help is greatly appreciated.  Please look out for dates of meetings and events in the newsletter or on Facebook.  If you would like to get in touch please contact the school office or message via Facebook.
Recent Fundraising by the Friends
A few of the things we have funded recently:
Forest school waterproofs
Raised beds and plants
E reader pens
Toys and games for outside play
Improvements to libraries at both sites
School trips
After several years of hard work by our many helpers we have raised sufficient money to fund play equipment at the Rockbourne site.  We can't wait to see what is created for our children to enjoy!